Telegram is famous for its awesome group chats. Today's update makes them even more awesome. To begin with, we're increasing the number of people who can join a supergroup from 1000 to 5000 members. That's 5 times as good.
Supergroup admins can now inform all members about important news using pinned messages. Pinned messages are displayed at the top of the chat screen. All members will get a notification — even if they muted ordinary messages from the group.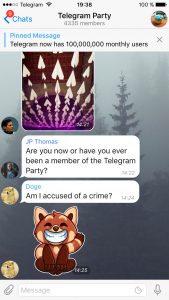 Starting today, supergroups can become public and get a short link, like telegram.me/publictestgroup. This way, anybody can view the group's entire chat history and join to post messages.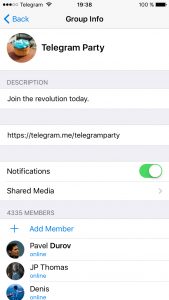 We know what you're thinking. What about spammers? To prevent potential spam issues, we're introducing powerful moderation tools for group admins. From now on, they can quickly delete all messages from a specific member, block and report them.
March 13, 2016
The Telegram Team
source telegram blog